2023 Iowa CPAs Month of Service
Unite with CPAs, accounting professionals, co-workers and accounting students for the annual Iowa CPAs Month of Service to make a positive impact in your local community this September. Since its launch in 2015, the profession-wide community service event has logged well over 10,000 volunteer hours on projects impacting over 100 organizations in Iowa. The event helps raise awareness of the CPA profession's influence in communities across the state each September. Hopefully, this inspires younger Iowans considering a future career as a certified public accountant.
Want to volunteer and looking for a project?
Check out the Volunteer Ideas section below. We have ideas for individuals looking to join other ISCPA members at the end of September and many ideas for organizing a project of your own.
IMPORTANT! Report your volunteer activities by Oct. 10
Once your volunteer activity is done, complete the Month of Service report to help us tabulate and share results from this year's event. We also use this information to select Month of Service Award recipients.
INDIVIDUALreporting here.TEAM reporting(team leader completes for the team) here.
Sign up to participate
Individuals: register here. Teams: Use the team registration form and refer to these steps for organizing a team.
Deadline for registrations for those wanting volunteer t-shirts is Aug. 11. Registration remains open through Sept. 15 without t-shirt.
Who can participate?
ISCPA members, co-workers and student members are encouraged to participate individually or as a team. Volunteer for a community or charitable cause of your choice for a day or a few hours — any activity that benefits your community counts!
Share your projects and service!
Take pictures and videos of your volunteer projects or activities while wearing your event t-shirt and share on Facebook, Twitter or Instagram using hashtag #IowaCPAsInspire23. Be sure to tag us! Find all of our social media links in the footer of this web page.
Help inspire youth!
Help support ISCPA's 2023 Month of Service spotlight on inspiring youth and Junior Achievement. Whether you want to champion a project in your local community schools or volunteer to speak with high school students through ISCPA's acCOUNTing ME IN outreach program, we are focusing efforts on inspiring youth to be their best selves. Many youth have never heard of the accounting profession and we think you are the perfect group to spread the message that accounting professionals are found in all industries - so following a passion within accounting is a great option!
One organization helping to inspire youth in Iowa is Junior Achievement. Junior Achievement is a nonprofit that inspires and prepares young people for success
How you can help with Junior Achievement in Iowa:
Access the Iowa Junior Achievement (JA) organization serving your community from these links:

JA of Central Iowa serves 52 counties in Iowa and reaches far beyond the Des Moines metro area. Check out their communities served. Find a "Donate Now" option on the website and locate volunteer opportunities as well.
JA of the Heartland educates more than 50,000 students in communities such as Quad Cities, Dubuque, Muscatine, Burlington, Sauk Valley, Illinois Valley and many more. Find a "Donate Now" option and opportunities to volunteer your time and business skills with JA.
Western Iowa locations may wish to contact JA of the Midlands in Nebraska to see if there are volunteer opportunities in your community. Their website is here.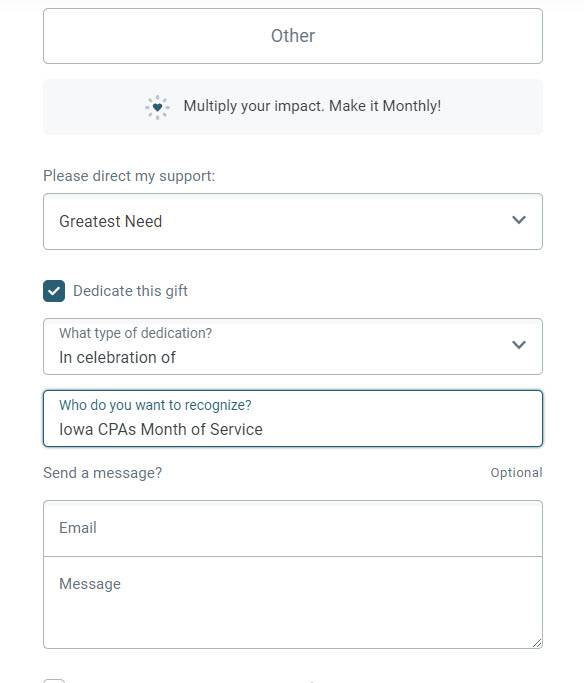 If you choose to DONATE, please help JA and ISCPA track our group's impact by completing the following on the donation page:

Check the "Dedicate this gift" box
Choose "In celebration of" from menu
Type "Iowa CPAs Month of Service" in the next box.
Other ways to inspire youth across Iowa:
Contact your local community schools! Pick up the phone and see how you can help.

Inquire about supply wish lists
Volunteer time in classroom or after school groups
Look into mentor opportunities

Find more volunteer ideas in the "Volunteer ideas" section below that go well beyond youth-focused activities.
Sponsor the event
For only $500 you or your business can be a Champion level sponsor with your name or logo on the event t-shirts and other benefits. Three sponsorship levels are available. Hurry! Month of Service sponsorship submission deadline is Aug. 4.
Questions?
Contact Kim Ripley at kripley@iacpa.org or Lindsey Haley at lhaley@iacpa.org or call 800-659-6375.
Looking for volunteer ideas?
Garden volunteers needed in Waukee
Individuals can sign up to volunteer from 9-11 a.m. on Saturday, Sept. 30 with Waukee Area Christian Services garden. This service event is perfect for anyone in central Iowa wanting to join other ISCPA members for an outdoor project. Contact Emily Heeren at heerenemily@gmail.com to sign up. This opportunity has a maximum of 15 volunteers. Exact location details will be sent to you.
Other opportunities
Host a charity drive at your business or visit VolunteerMatch to find something in your part of the state. Looking for remote options? Here are some websites with virtual or remote volunteering ideas and options:
Here are some great resources for volunteer opportunities:
September is also Hunger Action Month and you can support the Iowa Food Bank Association, which serves children, adults and seniors in all of Iowa's 99 counties. Simply locate the food bank in your part of the state and find a volunteer opportunity that's right for you or your team. Questions? Contact your local food bank.
Looking for ideas to volunteer outdoors? Here are some organizations that offer opportunities or links. Anything from helping harvest food (see links above) to restoring benches, planting trees or improving prairies at state parks:
2023 event sponsors
Champion sponsors
---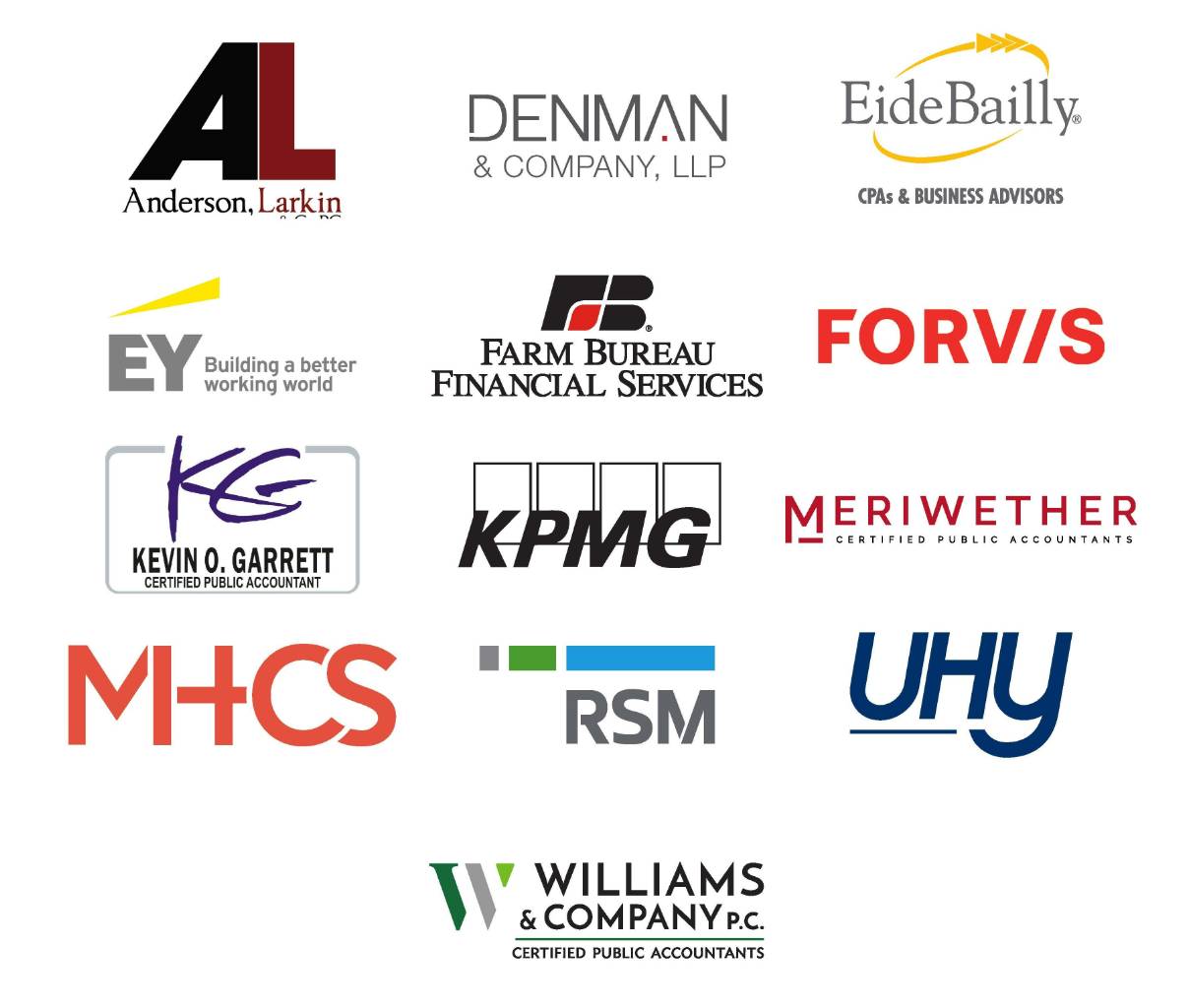 Partner sponsors
---

Supporting sponsors
---
Deloitte