Emerging Leaders Conference
West48 Conference Center
1604 48th St Ste 100
West Des Moines, IA 50266
Get Directions
Member Price $275.00
Price will increase by $50 on 7/14
Non-Member Price $335.00
Price will increase by $50 on 7/14
Overview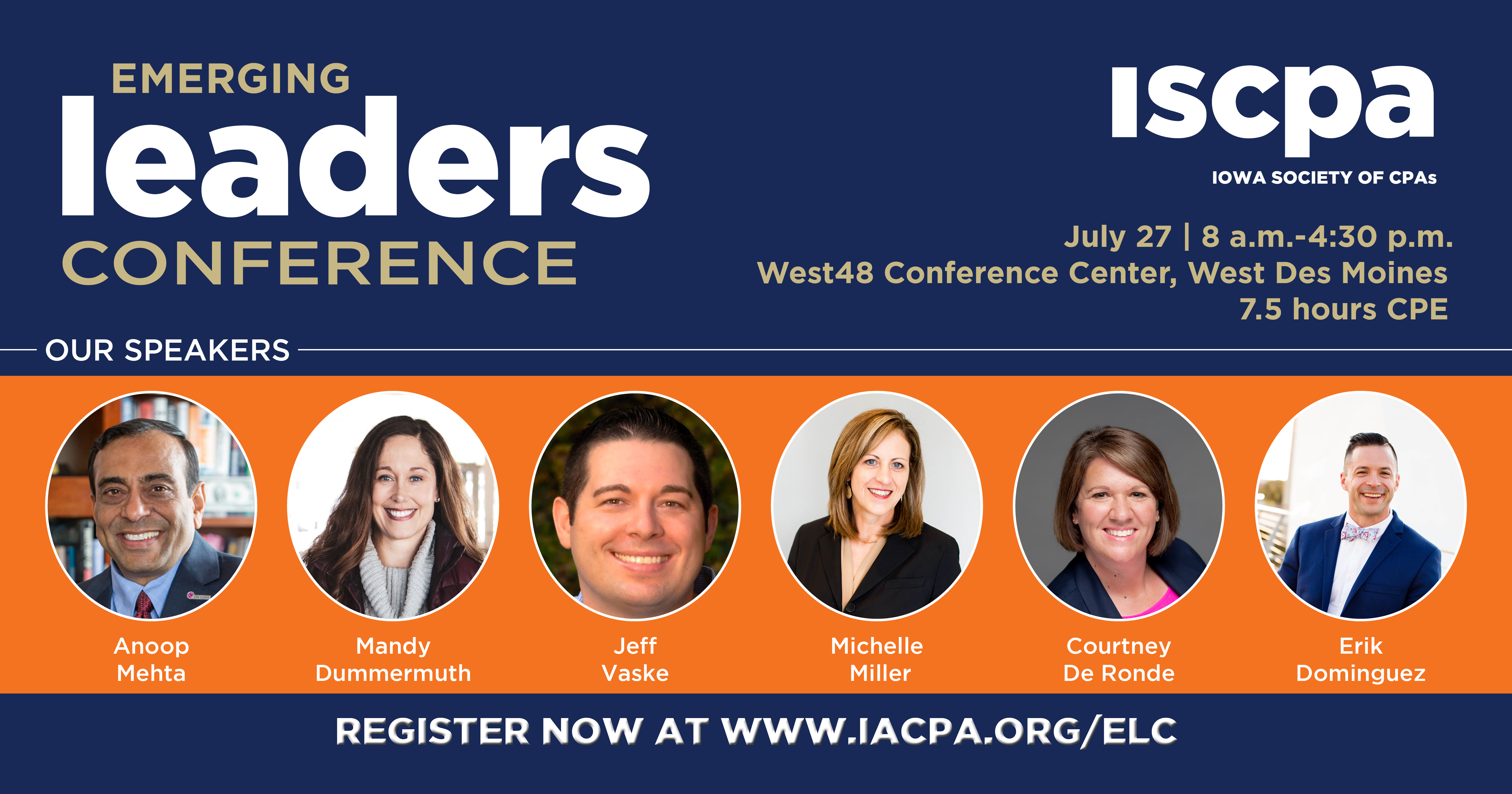 The ISCPA Emerging Leaders Conference is the premier opportunity to explore key skills and strategies needed to succeed in the constantly evolving, fast-paced work environment. Network with other CPAs and connect with industry leaders on valuable insights and guidance. Whether you're just starting out in your career or looking to take the next step, this conference is the perfect opportunity to gain new knowledge and discover tangible tactics on what it takes to lead.
Highlights
See agenda tab for the full event schedule.
Designed For
Emerging CPAs and accounting professionals
Objectives
Connect with peers, learn strategies, and gain a greater awareness of your leadership style and its impact on your organization and professional performance.
Thursday, July 27
7:30am - 7:30am

Yes, I would like a professional headshot
Whether you're updating your LinkedIn profile, creating a new business card, or just want to invest in your personal brand, be sure to take advantage of this valuable opportunity. Receive a high-quality professional headshot from Cherry Chiles Photography to make a lasting impression. Headshots are optional, but included in your registration fee. Available from 7:30-8:30 a.m.

This session is available to registrants only.
8:00am - 8:30am

Registration & Networking Breakfast
This session is available to registrants only.
8:30am - 8:40am

Welcome Comments
This session is available to registrants only.
8:40am - 9:55am

Redefining Productivity
The equation seems simple: more hours = more productivity. Have too much work? Eat at your desk, stay late, come in early, and add a few days to the workweek. Unfortunately, many individuals (and businesses) have found that burning the candle at both ends ensures a quick burnout. Let's examine the mindset that told a generation to put their heads down and push through. Does the research support this? Does our experience prove this? Will the next generation buy into this concept? Join Courtney for a discussion of a new way to look at productivity, work/life integration, and business success that helps you and your team become more productive and remain free of burn-out.
Speaker: Courtney DeRonde
This session is available to registrants only.
10:10am - 11:00am

Financial Planning for Young Professionals
As a young professional, it's never too early to start thinking about your financial future. In this session, we'll explore key strategies for financial planning to set you up for long-term success. Our financial planning experts will discuss the importance of setting financial goals that work for your unique situation. We'll also delve into the benefits of investing and the different types of investment options available. Gain a better understanding of the essential components of financial planning and walk away feeling confident and empowered to take control of your financial future.
Speakers: Brandon Grimm, MBA, CFA and Michelle Miller, CFP | Gilbert & Cook Inc.
This session is available to registrants only.
11:45am - 12:55pm

Use Your Why, Find Your Drive: Building Lasting Confidence And Motivation
Companies are plagued with "The Great Resignation" and "Quiet Quitting." Employers are often left with little to no information as to why an employee left or why they are not meeting (or exceeding) the expectations of the workplace. This session explores the science behind motivation and equips teams with the communication confidence to connect and motivate team members meet (and exceed) performance goals. Using the emotional intelligence tool of the Enneagram, mixed with case studies and high-energy humor, Erik will share how to inspire teams to communicate, connect, share stories, and build lasting confidence and motivation.
Speaker: Erik Dominguez | Speak Up Stories
This session is available to registrants only.
1:10pm - 2:25pm

Servant Leadership in Action
Servant leadership is much more than a catchphrase: it's a way of life! In this session, we'll clearly define servant leadership and take a close look at what it means to be a true servant leader. In addition, you'll have the opportunity to develop your "Servant Leadership Philosophy," a document that articulates what you stand for as a leader and how you embody the virtues of servant leadership in your daily life.
Speaker: Jeff Vaske
This session is available to registrants only.
2:35pm - 3:25pm

Leading Without the Title: Building Purpose & Influence
Regardless of your role or time in position, you can make an impact! Learn ways to build purpose by starting with the why and enhance your ability to have influence. This session will incorporate opportunities to enhance self-awareness, engage in group discussions, and will equip you to thrive with purpose and influence.
Speaker: Mandy Dummermuth
This session is available to registrants only.
3:35pm - 4:30pm

Professional Issues Update for the YP
As chair of the AICPA, Anoop Mehta, CPA, CGMA, is actively involved with CPA professionals all across the country. He will provide an update on the profession, discuss top issues facing the industry, and how young CPAs play a vital role in the future of the profession. Learn more about Anoop's inspirational leadership HERE.
Speaker: Anoop Mehta, CPA, CGMA | Analytical Mechanics Associates, Inc.
This session is available to registrants only.
4:30pm - 5:30pm

Happy Hour
Continue conversations, make valuable connections, and unwind after an invigorating day of learning and growth! Refreshments provided.
This session is available to registrants only.
Non-Member Price $335.00
Member Price $275.00