Business and Industry Conference
Holiday Inn Conference Center Des Moines Airport
6111 Fleur Dr
Des Moines, IA 50321
Get Directions
Member Price $310.00
Price will increase by $35 on 2/22
Non-Member Price $360.00
Price will increase by $35 on 2/22
Overview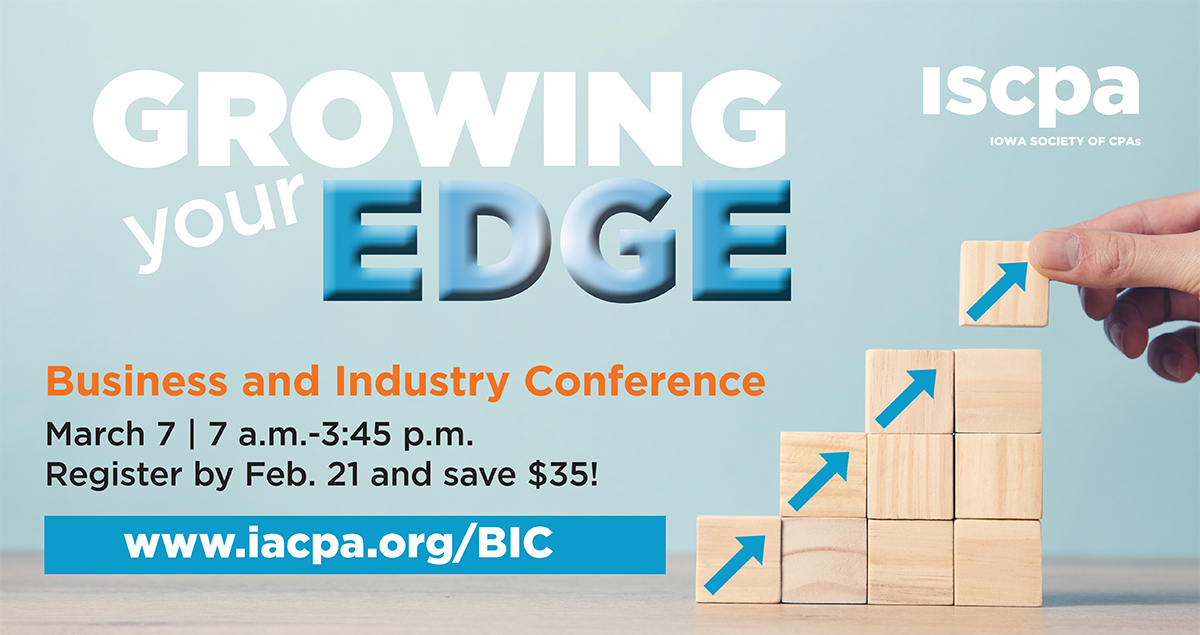 Thank you to the ISCPA Business and Industry Committee! We appreciate your time and commitment to developing a top-notch program for your peers. View the committee members.
As an accounting professional in business and industry, you rely on more than your finance skills to succeed. You are an integral part of a team charged with creating and maintaining the financial health of your company. The ISCPA Business and Industry Conference is designed to meet the diverse demands of your job, with hard-hitting content by leading-edge speakers and an agenda that has been skillfully developed for you, by professionals like you.
Overnight accommodations: A group rate of $115/night is available for conference attendees at the Holiday Inn. By February 20, reserve your room by calling 515-287-2400.
Highlights
See agenda tab for sessions.
Designed For
CPAs and accounting professionals in business and industry.
Objectives
This annual conference brings together industry leaders to learn, network and share ideas on how to grow and strengthen your skills to better serve your business and clients. If you are passionate about business in Iowa, this is a must-attend conference.
Tuesday, March 7
7:00am - 7:50am

Becoming an Ethical Leader (optional BONUS session)
Rarely do leaders set out to act unethically, although there are occasionally unsavory characters who climb the leadership ladder with ill intent. Unethical behavior usually evolves over time when leaders lack a strong personal foundation. Explore six research-based ethical perspectives that shape your foundation for ethical behavior. Discover the underlying principles, beliefs and values that influence your decision-making when ethical issues are present. Apply these principles to a real-life case study that spotlights ethical dilemmas, leadership actions (and inaction) and the opportunity to be a "voice of one."
Attend this session and receive one extra hour of CPE credit (8 total). Qualifies for ethics CPE credit.
Speaker: Jon Lokhorst, CPA, PCC
This session is available to registrants only.
8:00am - 8:10am

Welcome messages
This session is available to registrants only.
8:10am - 9:00am

Iowa Economic Development Update
What can we expect for Iowa's economy in 2023? Will inflation still be a top concern for Iowa businesses? Will a recession still be a looming threat? What Iowa industries are still trying to bounce back and which are back to their old patterns? Join Director Durham as she discusses these areas and other policy initiatives and programs that help drive Iowa's economy.
Speaker: Debi Durham | Director, Iowa Economic Development Authority
This session is available to registrants only.
9:15am - 10:30am

The ESG Era is Upon Us. Are You Ready for the ESG Ripple Effect?
The ESG ripple effect has begun and is accelerating from public reporting companies and their C-suite, down through their organization and into procurement with increasing focus on supplier alignment. Simultaneously, a bottom-up ripple effect is happening driven by the rise of citizenship, in particular the younger workforce of Gen Z & Millennials (soon to be the largest segment of the workforce) demanding that companies are a force for good, regulation (federal, state, and local), and investor demands. The converging impact of both ripples requires companies to embrace ESG as a strategic imperative.
Speaker: Lou Raiola | ethOs
This session is available to registrants and their guests
10:45am - 12:00pm

Accounting & Auditing Update
Join A&A expert Jim Martin for an accounting update and pressing issues to be aware of.
Speaker: Jim Martin, CPA | Martin & Co CPA, P.C.
This session is available to registrants only.
10:45am - 12:00pm

Supply Chain and Freight Management
Hear an overview of the historical, current and future concerns in supply chain management in pressing areas like: labor, product/material sourcing and strategies, fulfillment and getting your product to your customer. Also hear a broad overview on freight management with topics on: economic drivers and cost, inbound freight control (those who control, win), managing carrier/vendor relationships and best practices, establishing metrics, benchmarks, automation and more.
Speaker: Jeff Hughes | Express Logistics, Inc.
This session is available to registrants only.
12:45pm - 1:35pm

Economic Outlook for 2023 and Beyond: The Good, The Bad and The Mildly Amusing
This session will explore the factors currently shaping the economy and the various sectors that drive economic growth. Dr. Hart will investigate the connections among the various sectors (manufacturing, finance, ag, etc.), discuss the potential for growth over the next few years, and outline the challenges to reaching robust economic gains.
Speaker: Dr. Chad Hart, Ph.D. | Professor of Economics, Iowa State University
This session is available to registrants only.
1:50pm - 2:40pm

How to Keep Your Organization from Drowning in the Turnover Tsunami
"The Great Resignation" has swept up many organizations in a turnover tsunami as record numbers of employees quit their jobs. Learn the primary reasons people are leaving and develop a strategy to combat each of these key factors. Deepen engagement with your team members by offering meaningful work, connection and a clear path forward. Gain insights on the relationship between employees wanting more flexible work and psychological needs for autonomy, and how to navigate these challenges in remote and hybrid work environments. Develop an always-recruiting and always-onboarding approach beyond the initial start date to attract and retain top talent.
Speaker: Jon Lokhorst, CPA, PCC
This session is available to registrants only.
1:50pm - 2:40pm

The Future of Finance - Ways to Provide Value to Keep Your Business Future Ready
Session description to be updated soon.
This session is available to registrants only.
2:55pm - 3:45pm

Iowa-born Business Success Story: Mechdyne
Session description to be updated soon.
Speaker: Genoveva Winsen | CFO, Mechdyne
This session is available to registrants only.
Non-Member Price $360.00
Member Price $310.00