Women's Leadership Forum (IN-PERSON CONFERENCE)
Sheraton West Des Moines
1800 50th St
West Des Moines, IA 50266
Get Directions
Member Price $295.00
Non-Member Price $345.00
Overview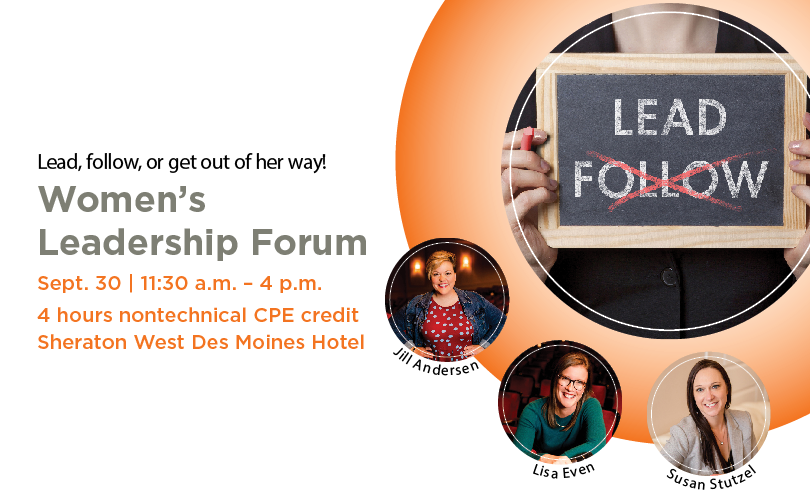 Register now for ISCPA's Women's Leadership Forum where thought leaders will share stories on how to overcome setbacks, break boundaries and rise up to build the life and career you desire.
Highlights
See "Agenda" tab for session descriptions.
Designed For
Women in the accounting profession, and men are invited to gain a greater awareness of the importance of female equality and diversity at every level of an organization.
Friday, September 30
11:00am - 11:30am

Registration + Networking
Check in, pick up your name badge, reconnect with familiar faces and friends, and get to know other CPAs you'll be spending the afternoon with.
This session is available to registrants only.
This session is available to registrants only.
12:00pm - 1:15pm

Forget your Shoulds: Free Yourself
"Shoulds" are pesky lil annoyances that hide in plain sight and hijack your life. Maybe you're staying in a job or relationship you know isn't right for you. Maybe you really want to buy an RV and live on the road, but everyone around you thinks you're cuckoo! Perhaps you are 39 years old, excited to get a tattoo on your wrist and terrified of what your mom will think. Those are a few examples of giving up your power and choice. We think we should keep doing XYZ things so we don't rock the boat, upset anyone, fail, or screw up...the excuse list goes on for miles.

Hear Jill Andersen's story of becoming a "Shoulding Survivor" that will inspire you to forget your shoulds, free yourself and discover who you were born to be.
Key takeways:
Identify expectations (shoulds) and their influence on decision making.
Learn how to transform shoulding habits into patterns of empowered choice using Jill's unique framework
Design your life with an autonomous mindset with tips to navigate the process.
Speaker: Jill Andersen
This session is available to registrants only.
1:30pm - 2:45pm

Breaking Through Status Quo
Status quo is all around us and can be very useful. In fact, organizational equilibrium happens naturally. It provides a comfortable work environment and efficiency. So why does status quo get such a bad rap? When conditions change, status quo is no longer useful and organizational balance must be reset. But human nature doesn't allow letting go of old ways so easy or logical. In fact, we are driven to hold on to previous beliefs and practices long after they are helpful. Business leaders must recognize the human element when implementing change, that can include objections, push back and resistance. In this session, Susan will describe how to break through status quo from a human and organizational perspective so leaders can:
Distinguish when status quo is working and when it's not
Understand why individuals struggle with letting go
Recognize the various forms of resistance
Learn strategies to facilitate and accelerate a change process using behavioral principles
Speaker: Susan Stutzel, CPA | S Stutzel Coaching
This session is available to registrants only.
3:00pm - 4:00pm

Making a Positive Splash! Developing Your Ripple Effect
Leadership doesn't happen tomorrow at noon. It happens everyday, in every moment, in every scenario. But with a never-ending to-do list and the pressures of today's fast-paced lifestyle, how do you make time to become the best leader you can be? In this energetic, yet practical scenario-based session, Lisa introduces a simple three-step process for creating a positive splash. With specific examples - some funny, some moving, some inspiring, she'll teach you how to find your positive ripple effect. Walk away with a high-level plan and powerful and executable strategies that you can apply immediately - at work and beyond.
Speaker: Lisa Even | Even Connection
This session is available to registrants only.
Leader Bios
Jill Andersen
Jill Andersen is a speaker and coach whose life looked perfect until her SHOULDS hit the fan and everything changed. Equipped with an MBA, a divorce, anxiety, a sense of humor and a helluva lot of perspective…. She's now sickeningly happy, riding her unicorn around the world empowering audiences to show up for themselves, grab life by the horns and become who they are born to be.
Return to Top
Lisa Even
Lisa Even is cheering loud for all the leaders, teams and entrepreneurs who want to Have Good Ripple Effect. She delivers high-energy keynotes and workshops that challenge audiences to think beyond their backyards and believe that they happen to their workplace, and not the other way around. Lisa is on a mission to connect with 1 million people and help people create ripples that turn into waves, big and small. Audience's love working with Lisa, often describing her as an energetic yet insightful collaborator with an eye for impact and ROI. Lisa's unique background in operational leadership and project management is both the foundation and springboard for her work. She attributes her success to the gritty, rewarding beginnings of waitressing in high school at R&R Café, the tiny café in Eastern Iowa, and her first group of direct reports that she had in corporate America. Those 65 people did more to fuel Lisa's future than they will ever know! Through speaking workshops and coaching, Lisa partners with leaders and teams to relate, create, and innovate through connection, culture, and productivity.
Return to Top
Susan Stutzel
Susan Stutzel is the founder of S Stutzel, CPA, a firm specializing in nonprofit auditing and consulting. Over the last 19 years, she has worked in both public and private accounting, and in that time discovered her passion lies in serving clients in the nonprofit industry. Her desire to work with nonprofit organizations stems from a desire to be surrounded by equally passionate individuals who want to change the world. Susan is also the owner of S Stutzel Coaching, where she provides leadership coaching to CPA's, business-owners and leaders within organizations. She thrives in helping others break through barriers and manage priorities in order to live an abundant and meaningful life. Due to her passion for serving nonprofits, she also serves in various volunteer roles including: board member of the Iowa Society of CPA's, treasurer of the Tipton School Foundation, treasurer of Iowa City Hospice, past treasurer of Iowa Women's Foundation, adjunct professor at her alma mater Coe College, Iowa Society of CPA's Career Awareness Committee, Iowa Society of CPA's Nonprofit Organization's Committee, Workplace Learning Connection Financial Literacy Fair volunteer, Calvary Church liaison for the community vacation bible school program. She also finds time to be actively involved in her children's schools serving as parent volunteer.
Return to Top
Non-Member Price $345.00
Member Price $295.00